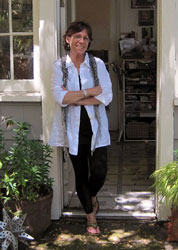 My travels and education have taken me to South America, Europe, Asia and the Middle East, eventually leading to a degree in Cultural Anthropology and Film from San Francisco State University.  My cross-cultural studies and interest in the arts led to work with the California Academy of Sciences assisting with research and development of exhibits, a 13 year career in video and television production and positions in non-profit arts administration with California Lawyers for the Arts, ArtHouse and the Business Arts Council.
My fascination with the field of paper arts began early with a love of origami, leading to studying Japanese and Western paper making.  By experimenting and combining various techniques I found my unique style.
I opened my art studio in 1989 making an original line of handmade paper, mixed media jewelry pieces that I continue to design and create individually.  My work combines handmade paper, wood, paint, pearls and text to compose simple yet elegant pieces that strive to show a harmonious juxtaposition between the unique forms of nature and those of the human hand.